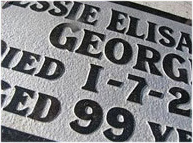 Grahams Memorial Headstones carries a variety of granite headstones and bases in different shapes and colours at our showroom and stockroom at Grahams Funeral Home, West Street, Tuakau. If we don't have a preferred headstone colour or design, we can arrange for the memorial to be custom made overseas. This will take about 12 weeks from date of ordering.
If you have a headstone or memorial design or idea in mind, come and talk to us and we will work with you to bring your concepts to an achievable, meaningful result.
Once the headstone design is finalized then together we can create a layout of how the inscription, artwork and photos can best be crafted on the granite.
This phase is important to ensure that, wherever possible, your headstone expectations can be met and if not, any modifications are realistic and acceptable to you and for us to create the everlasting memorial.
Only after you are satisfied and sign off the headstone layout, will work commence on the memorial. We will discuss lettering size, fonts, spacing and room to be left for future details (if applicable).
Our Monumental Mason Team at Grahams Memorial Headstones are highly skilled at converting or drawing a photographic image into a format that can successfully be cut into granite for maximum visual effect. They will strive to achieve the best headstone or memorial for you.
Indicative Pricing
The final price of a memorial plaque or headstone is influenced by the:-
• Physical size of the plaque, headstone and base
• Colour of the headstone or memorial granite – Blue Pearl and multi colours attract a premium
• Headstone or memorial shape – standard or customized
• Number of words making up the inscription on the headstone or memorial
• Type of finish on the top, back and sides of the headstone or memorial. e.g All polished, rocked,
axed, sawn, carved
• Studio time involved in transforming an image so it can then be cut into the headstone or memorial granite
• Accessories chosen; e.g ceramic photos, vases, bronze cross, statuettes etc.
• Permit fees that may apply and these vary depending on the cemetery authority/council
• Ease or difficulty of installation of the headstone or memorial. e.g. Berm or no berm, slope of the land.
Below are some examples with indicative pricing (incl. GST)