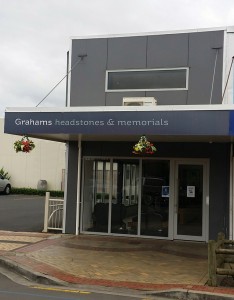 Grahams Headstones and Memorials has been a division of Grahams Funeral Services since the business of Sid Martin Ltd was purchased by Bruce Graham in 1973. This has allowed us to build on our relationship with client families after the funeral to provide further professional caring service to enable an everlasting memorial to be placed in the cemetery. Come visit us at our new modern showroom at 52 George St, Tuakau. 
We provide a personalised service and our headstones and memorials are designed carefully after personal consultation with you. We can customise the design, shape, art work, lay out, masonry and ceramic work, and we can personalise your memorial or headstone with photos, artwork or other mementos. Headstones can be installed in the cemetery, or supplied on their own for installation yourself if in a private cemetery.Grahams Headstones and Memorials will supply your headstone or memorial within an agreed time frame, at a competitive price. We will help obtain a council permit if required.
We also design and install cremation memorials and cast bronze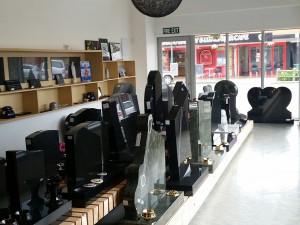 plaques and have a variety of vases and vase holders for floral tributes. We can restore and renovate headstones that have been damaged by time and add additional inscriptions to existing headstones and memorials.
We can personally install a headstone or plaque in any cemetery within the Auckland, Franklin (Pukekohe, Tuakau and surrounding areas) and North Waikato (Mercer,
Te Kauwhata, Huntly) and surrounding areas, or arrange delivery and/or professional installation of your headstone anywhere else in New Zealand.